Does Yellow Pages help SEO in Google?
There's a view amongst some NZ businesses that having a listing in Yellow Pages will help improve your website's organic rankings in Google.
Its fairly tough for businesses to understand and to determine what is important when it comes to optimising a website and to achieve good traffic generation from Google. It was definitely easier in those days when all you needed to do to get your phone ringing was to book your yellow pages directory listing.
The factors that determine how well your website ranks are many and varied and according to the SEO community, number approximately 200. Google is making refinement changes daily to their organic search algorithm and this demonstrates the degree of complexity and rate of change that is occurring.
Google's algorithm has in recent times become very good at identifying paid and un-natural links and low quality content. While a website's link profile remains an important part of how it will rank in Google, it should be understood that for the most part a quality linking profile will need to be earned over time and cannot be purchased.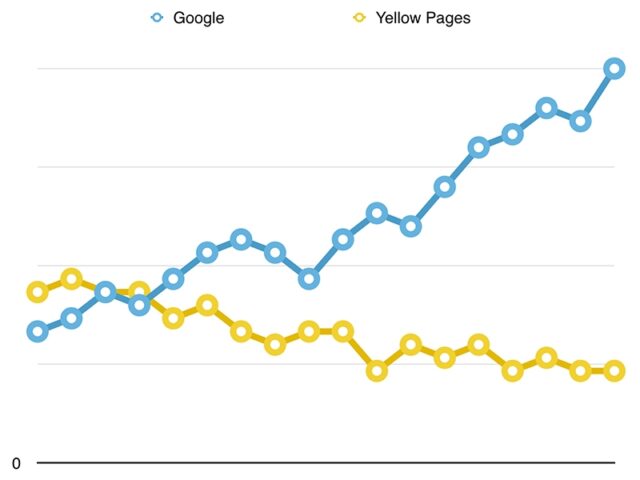 So will a listing in Yellow provide any help?
Any ranking benefit from a purchased Yellow Pages listing will be minimal at best and neutral at worst. In our opinion, it's not worth purchasing an expensive listing with this benefit solely in mind.
We would advise strongly against purchasing links or getting involved in link exchange programs.
Top SEO specialists (industry acknowledged) in their key lists of SEO things to do, don't include nor recommend getting paid directory listings.
If you have a brand new domain, then its probably worthwhile to list your business on free directories to help your linking profile get established.
What should you do to improve your SEO?
Do talk to an SEO expert about your website to make sure it is coded well, structured correctly and is search engine friendly.
Content is not just a part of SEO; it's now the main event!
SEO should not be viewed as a one-off paid for exercise like getting your roof painted.
Read our article on content marketing – this provides a very good overview of why and how you should go about creating a plan to create and publish content. Creating content should now be included as a key part of your businesses marketing mix.
Read our SEO guidelines for on-page search engine optimisation.
If you want a more detailed perspective on the latest SEO factors that influence rankings, we recommend reading the research recently published by Search Metrics in the USA.
If you need assistance with your SEO and online marketing strategy and execution, please contact us for a no obligation consultation.