What is E-A-T in SEO and how it impacts your rankings
E-A-T in SEO, relates to those elements, on and off your website that are analysed by Google's algorithm to measure the level of experience-expertise, authority and trust associated with your website and it's pages.
What we know about E-A-T factors comes largely from the set of guidelines that Google provides to it's network of search quality evaluators. These raters are engaged by Google to personally review websites and to provide feedback relative to their rankings and level of E-A-T for the purpose of assisting Google to improve search results. Google has made these guidelines publicly available since 2013 and they are regularly updated and can be read here.
While the feedback from the raters does not directly impact a website's rankings, it is used to improve Google's algorithm and its ability to accurately measure levels of quality and E-A-T.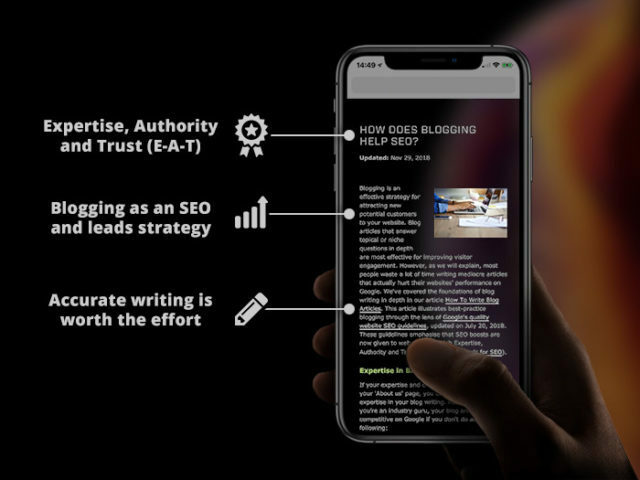 Big changes in Google's algorithm during 2018
There have been 3 significant core algorithm updates during 2018 (April, August and September) and there has been acknowledgement amongst leaders in the SEO community that these updates have been primarily focused on rewarding those websites which meet quality and E-A-T standards.
The future direction of SEO will mean much more focus and effort on improving E-A-T and content quality and much less focus on the traditional SEO activity of link building. Google's algorithm has advanced to the point now where effort into acquiring links in an unnatural manner is now easily identified and any ranking benefit is neutralised. You may even be penalised if unnatural and manipulative link acquisition activity is excessive.
Your Money or Your Life - What is a YMYL website?
It is important to understand that there is a broad category of websites (defined within Google's Search Quality Rating Guideline's) known as Your Money or Your Life websites, and sites that fall into this category are required to meet an even higher level of quality and E-A-T standards than non YMYL websites.
Google defines YMYL websites, as those sites that could potentially impact the future happiness, health, financial stability, or safety of users. This includes websites providing;
All e-commerce sites
Health and medical services and products
Legal services
Financial services
Insurance services
Real estate
What Quality and E-A-T elements are important & should be improved
The following is a list of elements too focus on to improve your E-A-T. If your website falls into the YMYL category, then it will be even more important to pay close attention to these.
Each web page should have a clear purpose and the titling should align to this and main body content should meet that purpose
Main body content on pages should be unique and satisfying to the user
Info about who is responsible for the website
Info about who wrote the content, including details of their expertise and credentials
Authors should have domain expertise
Blog articles should include the authors name and link to the authors profile
If you are in science or medical, any claim you make should be backed up by a scientific reference
Any industry accreditations should be made apparent on the website
Customer service and contact information details. Including phone numbers, social media links and physical business address if applicable
E-commerce sites should reside on a secure certificate
Terms & Conditions page
Privacy Policy page
Returns Policy page (for ecommerce sites)
About Us page accurately setting out experience and expertise
Profiles of owners and key management and detailing their expertise and credentials
Positive reputation for the business and website (as apparent in external reviews etc)
Positive reputation for the creator of the content (as apparent in external reviews etc)
Some red flags to watch out for:
An overall negative reputation in external reviews
Distracting and intrusive ads on your website
Unmoderated user generated content
A large number of spelling and grammar errors
Overall, your focus should be on providing great quality content for your website visitors and in an open and trustworthy manner. Information about your business and it's key people should be visible and transparent.
If you would like an assessment of your website, please see our SEO services or contact us for more information.