How does blogging help SEO?
Blogging is an effective strategy for attracting new potential customers to your website. Blog articles that answer topical or niche questions in depth are most effective for improving visitor engagement. However, as we will explain, most people waste a lot of time writing mediocre articles that actually hurt their websites' performance on Google. We've covered the foundations of blog writing in depth in our article How To Write Blog Articles. This article illustrates best-practice blogging through the lens of Google's quality website SEO guidelines, updated on July 20, 2018. These guidelines emphasise that SEO boosts are now given to websites with high Expertise, Authority and Trust (i.e. E-A-T standards for SEO).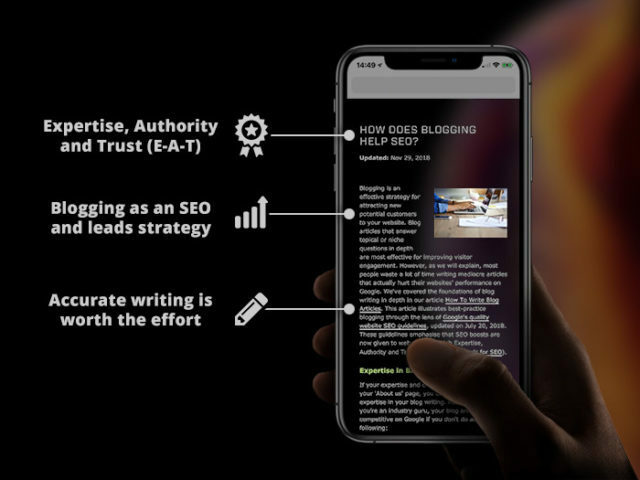 Expertise in Blog Writing
If your expertise and credentials are legitimised on your 'About us' page, you can exercise your expertise in your blog writing. However, even if you're an industry guru, your blog article won't be competitive on Google if you don't do all of the following:
Don't use verbose, vague or unoriginal content. If you can't write at least 300 words of concise, instructional and entertaining content, you should reconsider spending time writing the article in the first place. That said, you shouldn't keep writing less-helpful content just to meet some arbitrary word-count.
Don't state facts without referencing original sources. Your personal experiences can be very valuable, but you should always fact-check yourself whenever you make a claim (Google launched fact-checking in 2017). When linking to an external source, always link to the author who originally posted the evidence, not some relevant blog post or news article.
Don't post out-of-date content. How sure are you that your best-practices from last year are still up-to-date? Regardless of what industry you're in, you should re-research any topic to ensure you're hurting your website with an outdated article.
How a blog helps your SEO
Provided your website is technically sound and crawl-able by Google, publishing relevant and unique content is the single most important SEO tactic. This is because search engines like Google work by connecting searchers with the most relevant content that they are searching for and this is the very essence of what SEO is about.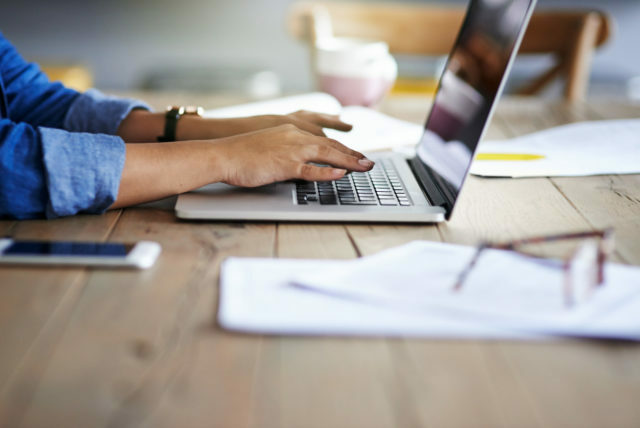 Who are blogs best for?
Blogs are great for those businesses where there is good opportunity to write content. Particularly those segments where customers have a lot of questions and there is an educational and informational need. Some obvious segments would include travel, health and well being, professional services, etc.
If the content opportunity is good, then the next consideration is about authoring the articles. Writing articles takes time and good articles are best written by someone with strong domain expertise and this normally means by someone within the business. Outsourcing may seem like an easy solution, but doesn't always produce the best results for SEO. This all adds up to you finding a willing and able author that is knowledgeable within your business and industry.
An effective blog will:
Generate a bigger presence and more visibility in Google
Connect you with your target audiences
Increase organic traffic to your website
Help improve the rankings of your other web pages
Generate external links and improve the quality of your linking profile, which will further benefit your SEO and rankings
Why a blog?
Blogs are a nice delivery vehicle for new content as they provide a suitable means to deliver all types of content and provide for easy categorisation of content as your volume of content grows. A blog section within your website will provide a convenient place to house detailed informational content without cluttering your normal content silos and landing pages.
Sub-domain vs subdirectory
Your blog is best incorporated within your existing website rather than within a subdirectory.
For example: www.mywebsite.com/blog/article... the reason for this is the marketing objective of driving more organic visitors to your website through a tactic of targeting them with blog articles that serve to meet and satisfy their demand for information.
Blog topics
Identifying article topics is a process of determining what your target audience is searching for and then reverse engineering content in the form of articles. This forces a deeper understanding of the behaviour and issues of interest of your target customers.
Using Google search is a great way to work out what these searches are. Type into Google what you believe customers may be searching for. As you do this take notice of the prompted suggestions in the search bar and also the suggestions at the bottom of the search results. Try various options and then settle on the search query that you believe will be commonly used.
If you have access to a keyword tool, these can also be helpful to verify the best search query opportunities to target.
The Keyword Tool is great for article research, as it provides longer tail query questions.
Check the results of the chosen query for winnability. If the first page results are flooded with local content then it may be difficult to out rank these, but if the results are not local to your city or country then there will be a good chance to rank well.
Keep a list of ideas so that you have plenty of options for when you have time to write.
How often to write blog articles
The key is to write high quality articles that will satisfy the target audience. Frequency is far less important than writing great winning articles.
For more insights on blog article structure and optimisation, read our article on how to write blog articles.
This Moz.com article about blog article content ranking factors is very good and provides some great insights.
Or contact us for a consultation on your SEO and blog content strategy.