How do Google Reviews work?
Google Reviews are an integrated feature within Google My Business and Google Maps. They allow customers to publicly post a review in Google about their experience with a business and its service and products.
Google Reviews can be a great way for service centric businesses to highlight their point of difference, and to showcase how customers experience them. The public can be reasonably confident that Google Reviews are genuine in so much that they are scrutinised by Google and are not easily manipulated.
The reviews have the biggest impact in Local Search results where they are featured within the Google Map Listing inserts – these are often referred to as a Local 3 Pack as they now list 3 businesses in each result.
Those businesses whom have enough reviews to get Stars associated with their reviews will stand out even further from the competition.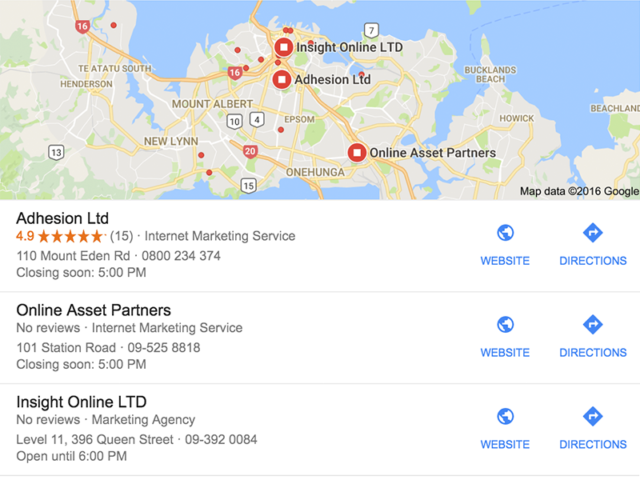 How to get google reviews from customers?
We advise businesses to actively solicit and to manage their Google Reviews. Its best to incorporate customer review requests as part of your customer service follow up and or thank you communication process. If you don't have one it's a good idea to implement one as getting reviews takes time and should be part of an ongoing and sustained effort.
Because the task of writing a review is relatively difficult for customers, its best to provide them with clear instructions as to how they can make and post their review. For a customer to write a Google Review, they need to be logged into a Google account. For customers using Gmail this is relatively easy.
On a desktop the best method is to:
1. Complete a brand search for the business in Google Search.
2. On the search results page, look for the Google Knowledge Panel on the right hand side of the search results for that business. Much of the information within the Knowledge Panel is pulled from your GMB listing.
3. Within the Knowledge Panel is a "Write a Review" button which customers can click on and make their review.
By emailing a link:
Alternatively, you can create a link that you can email or share with customers when asking them to give you a Google Review.
See instructions on how to create a link to your GMB review panel.
Whitespark have a free, easy to use Google Review link generator tool.
Remember that you will need to be logged into your Google account to be able to post a review.
On a smartphone, the easiest method is to:
1. Open your Google Maps app (not to be confused with other alternative Map apps like Apple's one).
2. Conduct a business brand search within the Google Maps app
3. Then click the link on the business listing which should appear at the bottom of the results page.
4. Then scroll to the bottom of the page and select your star rating and then write your review.
This method can be easier than the desktop method as you will be automatically logged into your Google account when you open the Google Maps app.
Important Note:
You should not try and post reviews on behalf of customers as Google scrutinises all reviews to ensure that they are authentic – Customers should only post reviews from their own device (desktop/mobile etc).
It is best practice to reply to all reviews. Provided you have verified your GMB listing, you will be notified by Google of each new review.
Contact us for help and advice with your Google Reviews and GMB listings.
How many google reviews to get stars
Once you have 5 or more reviews, you will get stars appended to your reviews. These are typically shown in GMB listings, your Google Knowledge Panel and in Google Maps. Stars help to distinguish you against those competing businesses that don't have any.
Can you remove or delete google reviews?
There is no absolute way to have Google Reviews removed. Google does however provide a process for removing reviews that are deemed to be a personal attack on an individual or individuals. You can flag an inappropriate review to Google. If a review doesn't meet Googles guideline, then Google may decide to remove it. Read how to flag an inappropriate review to Google.
How to manage a bad review
Many business owners worry about negative reviews and don't want to openly solicit reviews for this reason. Its important to understand that customers can post reviews independently and that this is not something that is under the business's control.

If you know the individual that made the review, it's best to contact them directly and address their concerns and to request that they take down or amend the review.

We recommend that businesses actively manage their Google and other social media reviews. Customers understand that no business is perfect and what is often more valued by customers are businesses that are open and responsive to customers.
It's best to reply to each review and where a negative review is received there is always the opportunity to reply and respond in an appropriate way to provide some balance.
If you cant access your GMB listing to reply to reviews, it may mean that your listing is unverified.
Do google reviews help seo & rankings?
In short yes, as they will improve the rankings for your GMB listings which often feature in localised search results. The Star rated listings will also improve click through rates on your listings and this will in turn also help improve your Google Rankings. The reviews are a signal to Google that your business operates in a transparent and open manner and this in turn helps you to earn Google's trust in your business.
How to manage google reviews
You will need a verified Google My Business (GMB) listing to be able to access and manage your Google Reviews. Your GMB listing is verified against your business address and usually requires a postcard to be sent to your business address. There are options for businesses that don't want to disclose their full address.
For more information, read our article on managing and optimising Google My Business listings.