Help and support with Google Ads
It can be difficult and frustrating trying to get direct support and help from Google. They don't have an easily accessible customer service help desk where you can talk to someone. There is no published phone number to call Google AdWords.
Google's customer support programme is based on the "self serve" model where you are encouraged to look for answers online, train yourself and/or engage in blogs and forums to find the answers you're looking for. This is all very good if you have the time but who does these days!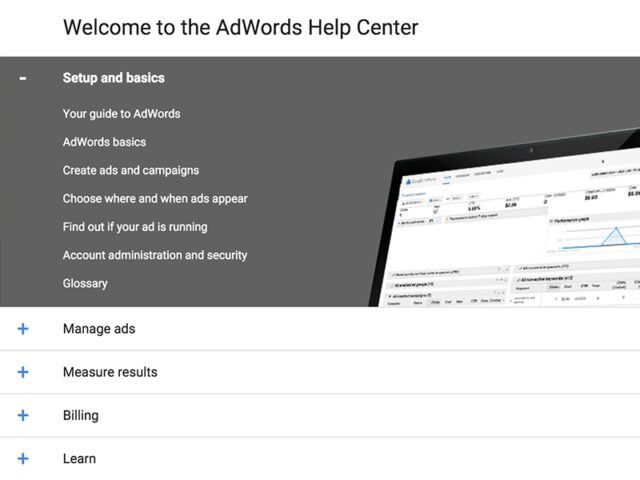 With your Google AdWords advertising you ideally need to either commit to managing your campaigns yourself or engage a specialist to manage them on your behalf. If you decide to manage your own campaigns it's best to assign this task to someone in your business that can commit to becoming familiar with the AdWords platform and learning how to achieve the best results. This requires an ongoing commitment, as the platform and its features are constantly changing, as is the competitive landscape where your ads are shown.
If you've invested in an 'inexpensive' website (maybe with Wix, Squarespace or WordPress) and/or you've tried your hand at Google AdWords, you may find that you aren't getting the best results. If you're looking for an immediate return on investment, AdWords is the way to go. However, there's little point paying for ads to drive people to your website if it doesn't generate sales. It may be the case that you don't need immediate help with AdWords but, instead, you first need help optimising your website for sales and performance on Google Search. Search Engine Optimisation (SEO) involves tuning your site to improve its presence in Google Search, whereas Conversion Rate Optimisation (CRO) involves design the user experience of your website to increase the percentage of people who make a purchase (or sign up to a newsletter, or download a brochure etc). If you're technically-skilled and have the time, you could potentially teach yourself (maybe try this Introductory Guide to CRO). Alternatively, you can start by getting a free website audit by simply contacting Adhesion.
If you're still looking to DIY your AdWords, Google provides more help than it did a few years back. If you have a quick question or two, you can now call a Google AdWords Specialist on weekdays from 11am-8pm NZ time on 0800 451 796 (see the Google AdWords Contact page). If you're looking to invest a decent amount of time into your own AdWords, you'll want to read through the Google AdWords Support page. If you really want to learn all the basics of AdWords, check out Google's free training for Google Ads. For common queries about AdWords (and pretty much anything else online), feel free to read through the articles and guides on the Adhesion Blog.
If you're serious enough to have worked your way through Google's Academy for Ads, or you just really need to know about the latest online trends, you can always check out or subscribe to some online marketing blogs. Here's a few that Adhesion's team reads through to ensure we stay up-to-date:
Maybe you simply want your AdWords taken care of by a worthy specialist? Adhesion is a certified Google Premiere Partner whose team holds every Google qualification you can think of (and more). Adhesion has a decade of experience and a few of our team members even hold the highest certification on offer: The Google Partners Specialist certification.
Check out any of Adhesion's Google reviews or Facebook reviews to learn about our unsurpassed reputation.