Google AdWords Ads not Showing?
If for any reason your AdWords ads are not showing in Google search results then the best way to check their status is to use the Ad Preview and Diagnosis tool. This tool was created for specifically for advertisers.
If you are constantly checking your ads in Google, then definitely use this tool rather than doing a search. The reason for this is that if you perform searches looking for your ads, you will create ad impressions without incurring clicks which may result in lowering your overall click through rate (CTR). This can affect your impression share meaning your ad may not show as often as you would expect.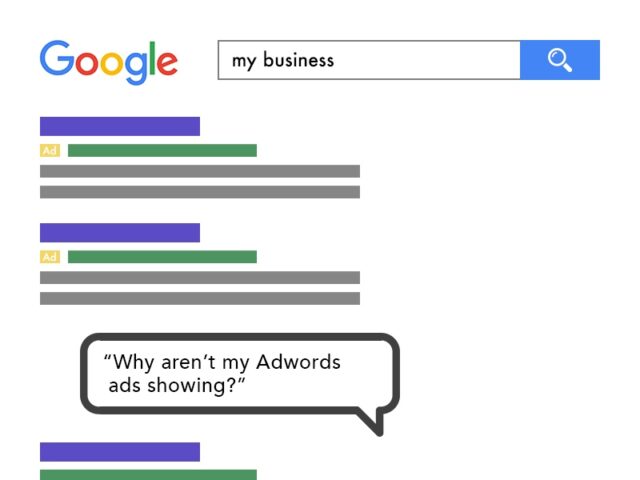 You may be seeing search results personalised to you
If you are frequently and repeatedly conducting searches on your keywords, you may not see your ads at all as Google will be serving a variation of results in an effort to be more relevant to you in an effort to get you to make a selection (click).
The Ad Preview tool is ideal if you are geo targeting campaigns into countries where you are not residing and you want to see your ads.
http://adwords.google.com/d/AdPreview/
The alternative option is to do an "incognito mode" search to avoid seeing personalised search results, but this will still add to your ad impressions.
Ads not showing?
If you still can't see your ads, then you should check your account status by logging into your AdWords account. Check for the following issues:
bid pricing may not be high enough for 1st page
check geographical target settings
budget expired
adcopy that is disapproved
credit card payment issues or your card may have expired
Adhesion provides managed Google AdWords advertising campaign services.
Contact us if you require support and help with your AdWords campaigns.