Social Media Usage in New Zealand 2017 to 2018
Social Media Usage Keeps Evolving Rapidly
A recent Research International-TNS survey presented by Johnathan Sinton showed that 97% of internet users now researched online before making a significant purchase. 28% bought products as a result of reviews they read on the web and, more importantly, 34% changed their mind about a product as a result of what they read! The bottom line: People trust social media content more than website content or other non-digital content. NZ businesses are following suit by investing more in social media advertising and video content.
2016 was the year that online advertising spend overtook TV advertising spend.

The increasing popularity of Facebook, YouTube, SnapChat and Twitter is calling businesses to tap into social networking, but they need to tread carefully. Consumers are quick to ignore social site pages that appeared to be overly sales focused.
Social Media Trends and Facts from 2017 to 2018
Put simply, the amount of time people spend on social media is expected to increase yet again during 2018. This means, like your audience, you should shift more of your attention to social media. More specifically, 81% of online Kiwis use YouTube, 79% use Facebook and 46% use Instagram (more than most countries including Aus, US and UK).

Demographic
For Facebook, there is an overall skew towards female users (54% vs 46%). However, there are more males in the two largest segments, 18-24 year olds and 25-34 year olds. And although these segments are the largest, they don't actually use Facebook the most often. This is because there has been an increasing trend for mothers to check Facebook daily (now 82%). That's quite an opportunity when the average user is spending 50 minutes on Facebook each day.
Influencer Marketing
Influencer marketing, whereby marketers use popular social figures, will become more mainstream in 2018 as media platforms make metrics and insights more transparent and relevant for advertisers. However, as the popularity of influencer marketing continues to increase, so too does consumers' scepticism about the legitimacy of influencers' claims. If you are going to have your product or service endorsed online by a local influential figure, be sure to be transparent about any payments or contracts (e.g. for Instagram, use the "Paid Partnership" tag or clearly use the hashtag #sponsored). Small businesses can take advantage of influencer marketing too. An influencer doesn't have to be famous. Have you tried flicking through Instagram or Youtube for a local and relevant individual who's trying to gain a following online?
Facebook Video Ads Predicted To Increase Even More!
Video advertising is still on the rise, largely because it allows marketers to deliver more interesting content which captures people's attention better. Even if you're a small company, if you're not creating relevant video content, you'll only be capturing a minor portion of people's attention. To make things more competitive, over a third of adults use some form of ad-blocking software (e.g. to block youtube popups), meaning that your advertising must have stronger messaging, relevance and value than ever. In response to this, YouTube will soon be nixing their 30 second ads that you can't skip. While it's easier said than done, your focus must now be on creating fewer and better advertisements which form some emotional connection with your audience. If you don't think a significant portion of your audience will actually want to watch your ad, you should question its worthiness.
How To Create Quality Video Content For Advertising
Whether your audience will want to watch your video content (or not) will depend on its quality. It will become more difficult for small businesses to compete using shaky video taken on a pre-2016 smartphone. If professional film production is out of budget, you should consider investing a couple hundred bucks into a gimbal (this will stabilise your phone into a smooth, smart-motion camera). DJI is famous for their gimbals and they recently announced the Osmo Mobile 2 which is aimed at providing businesses with a much more affordable option. You could even find a local student who's reasonably popular on social media (just ask your kids!) and hire them as a part-time content producer. Pay them to learn how to use a reasonably-simple video editor (e.g. iMovie is probably the simplest), and go around capturing interesting and relevant video. If your audience is as young as they are, you might want to ask them to suggest relevant marketing messages that resonate with their demographic.
The big corporates are also telling us it's time to kiss stock images goodbye. Recently, both Facebook and Apple have released an app designed specifically for creating content on mobile, for mobile. The Facebook Creator app is a one-stop-shop for building an online following. Creator also provides a breakdown of statistics so you can analyse which content is working well, and which is not. On the other hand, the Apple Clips app is more focused on actually creating video content. Apple Clips makes it easy to edit video and audio with special effects, voiceovers, subtitles, emoji stickers, lighting, filters and a unique feature called Selfie Scenes. Selfie Scenes is basically a way of recording yourself within a beautifully-animated 360-degree background (assuming you have access to a dual-camera phone like the iPhone X). Why is this important? People will immediately scroll past your content if it's not engaging.
Facebook Now Uses AI to Make Local Recommendations
Google reported that searches in 2017 were more specific than ever, and that people were not searching "near me" even though they were expecting local results. People often turn to Google Search for recommendations for restaurants, stores and events. However, Facebook has already started rolling out many recommendation features which utilises Artificial Intelligence (AI) and makes it easy for your friends to make recommendations. If you are a local B2C or event manager, watch this space.
Less Sales-Push Is More
This next point is a little more ambiguous. Put simply, your content needs to be less generic, more personalised, and more human. Instead of promoting product benefits, share a relevant story. Speak to your audience as if you were having a real conversation with one or two of them. Surely there's something newsworthy in your local area that is relevant to your business? Furthermore, businesses (especially large ones) tend to not take sides in political and/or moral debates. This is now changing. More and more businesses will promote their beliefs, even for controversial or taboo topics (this often creates more buzz and stronger loyalty among people who resonate with your business' values). For example, as President Donald Trump was being elected, a number of travel agencies predicted a drop in travel to the US and began campaigning against Trump. This sparked a lot of conversation and engaged with a large majority of young travellers outside of the US. The result? You might have heard that significantly more people are now travelling to Canada instead. So, what is your business going to make a stand for?
Social Media Advertising Facts & Trends from 2016 to 2017
Facebook & YouTube Video Ad Growth
According to eMarketer, social media ad spend will increase 25%+ during 2017. This is because most businesses are now aware that nearly 90% of Kiwis aged 15+ use social media, usually Facebook and/or Youtube (that's more than the number of people who watch tv each week, listen to the radio each week, or own a smartphone or tablet). Also, behind games, photography apps and social media apps were downloaded more than any other category in 2016.

A recent OMG Solutions NZ Social Media Survey revealed that 75% of NZ businesses actively use their Facebook page, and about 60% actively use Facebook Advertising. However, despite Mark Zuckerberg indicating that 2017 will be the year of video advertising, most NZ businesses still only use static text or image ads. Adhesion strongly advises NZ businesses to invest in video content and recommends Digital Masters' social media video production services.

Despite the fact that a lot of display ads from Google AdWords are compatible on Youtube, only 15% of NZ businesses take advantage of advertising on YouTube. Through Adhesion's direct relationship with Google, we've been expressly informed that YouTube is under-utilised by NZ businesses. Additionally, those NZ businesses who are willing to invest in video content will reap untold benefits from this opportunity (sorry to be vague).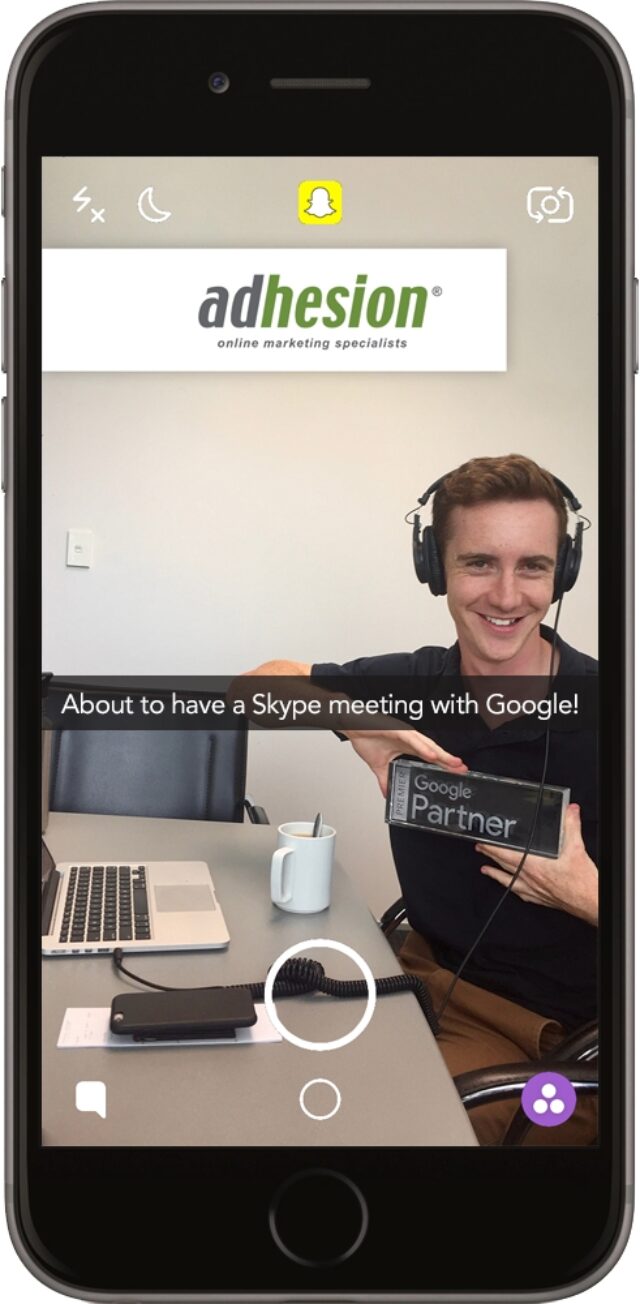 Advertising on Snapchat — Coming to NZ Soon
Advertising on Snapchat is relatively expensive but, if your customers are young, it might be worth it. According to Bloomberg, nearly three quarters of young adults aged 18-24 use Snapchat regularly.
In 2013, SnapChat turned down Facebook's offer of USD $3 Billion. SnapChat began investing heavily in their advertising platforms which have been widely accepted by users worldwide. Now, Snapchat's Initial Public Offering is expected to value them at about USD $20 Billion. As of early 2017, SnapChat is beginning to open its advertising platforms in New Zealand, yet only 4% of NZ businesses have an account on SnapChat.
Effective Advertising on Google AdWords
About 30% of NZ businesses use Google Adwords. This is because, to most people, Google AdWords is a very complex platform to use. Small to medium sized businesses are less likely to outsource their online advertising, yet about 60% do not have success for lots of reasons: most businesses do not know how to use Google AdWords effectively, how to generate consistent results, or how to measure ad campaigns accurately.