Facebook Advertising
There are 3 million Facebook users in NZ, and 1 in 2 New Zealanders actively check their facebook every day. And, on average, each of these Kiwi users clicks on 16 ads per month. This is why we often recommend Facebook advertising in tandem with Google Ads.
A common strategy for our clients is to drive new customers to their websites with Google Ads, and then 'remarket' ads to website visitors later when they're on Facebook.
Advantages of Advertising on Facebook
Highly specific targeting of ads to relevant audiences.
Effective at engaging people while they're using their mobile, or on the move.
Wide range of display ad formats that are highly engaging and interactive.
Integration with Instagram
Cost-effective with good return on investment.
Great for building your image and brand awareness.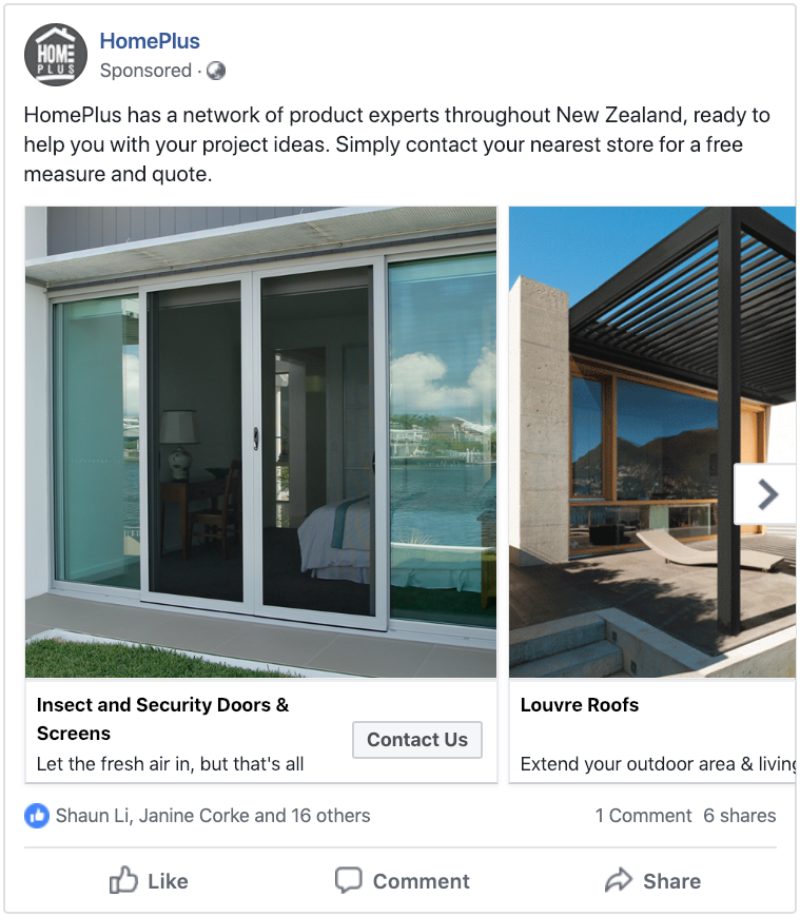 Managed Facebook Advertising Services
Adhesion charges a one-off Facebook Advertising setup fee of $379. This includes putting together 2 campaigns for your Facebook Advertising account, each with 2 sets of ads (total of 4 ad sets). We can create more ads for you for $79 per set of additional ads.
Set up advertising account (connected to your business' Facebook page, if you have one)
Create up to 2 Facebook advertising campaigns (can be Audience Segment and/or Remarketing)
Draft ads provided to you for approval
Provide 'Meta Pixel' tracking code for implementing on your website
Define & set up targeting rules for your campaign
Display ad creative and production (2 sets of ads included per campaign)
3 Month min initial term and then monthly agreement
See our full terms and conditions
Facebook advertising costs & budget options
Choose your advertising budget, from as little as $5 per day (payable directly to Facebook). One of Adhesion's specialists will be assigned to managing and optimising your Facebook Advertising account. Adhesion's campaign management fee tiers relative to the size of your monthly advertising budget.
| | | |
| --- | --- | --- |
| $150 | $169 | $319 |
| $300 | $179 | $479 |
| $450 | $199 | $649 |
| $600 | $229 | $829 |
| $900 | $289 | $1189 |
| $1200 | $339 | $1539 |
| $1500 | $389 | $1889 |
| $2000 | $449 | $2449 |
Facebook management services by NZ's leading online advertising agency
Adhesion's unrivalled reputation started with Google AdWords in 2007, and has expanded to many platforms including Facebook Advertising. Adhesion is a Facebook Business Partner.
Outsourcing your online marketing can seem like a daunting decision, so please feel free to check out Adhesion's Facebook reviews and Google reviews. As advocates for transparency, we'll never lock you in with fixed contracts, or charge you cancellation fees or hidden costs. You can leave anytime and take your Facebook account with you, so you can rest assured that we'll work hard to meet your goals.

Download our brochure or contact us to get started.