View Your Visitors Browser Size in Google Analytics
A new tool for optimising your site's content has just become available inside Google Analytics: browser-size analysis, which is part of the In-Page Analytics report.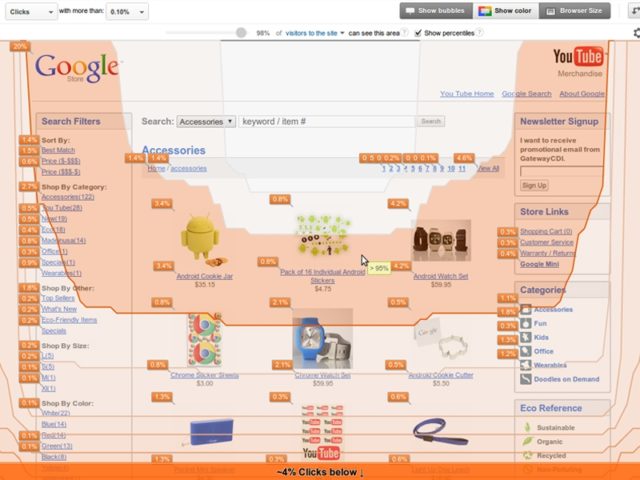 Browser Size

Your customers are using an ever-growing number of devices. Many users are on mobile platforms, and although desktop monitors are getting bigger, browsers aren't necessarily following suit. For many people, the visible portion of the web page is much smaller than the screen resolution, because of excessive toolbars and other clutter. This can have a significant effect on your website conversion rates. See how we provide a solution for this by building responsive websites.
Google Analytics now provides a visualization that lets you quickly determine which portions of your page are visible to which percentages of visitors. For example, are your customers scrolling down to view the special deal you have on house painting this month?
Browser-size Analysis Is Part Of The In-Page Analytics Report
Simply navigate to the Content section in Google Analytics, and click In-Page Analytics. You'll notice a new information layer is now available, (if it's not it'll be there over the next few weeks, it's currently being rolled out). Click Browser Size to shade portions of the page that are below the fold. You can now click anywhere on the screen to see what percentage of visitors can see it, or control the threshold percentage by using the slider.
If you need help installing Google Analytics or if you just want to learn more please, contact us.