G Suite - Gmail for business - Google Apps
G Suite — previously known as Gmail for business and Google Apps — is an online platform which smartly integrates Google's services using artificial intelligence. G Suite lets employees connect, create, access and collaborate on each other's files from anywhere. Business owners can fully control their employees' access permissions, knowing that their files are backed-up securely on Google's lightning-fast servers. This control extends to Gmail accounts, which is integrated with Google Drive, Docs, Sheets, Slides, Maps, Calendar and much more.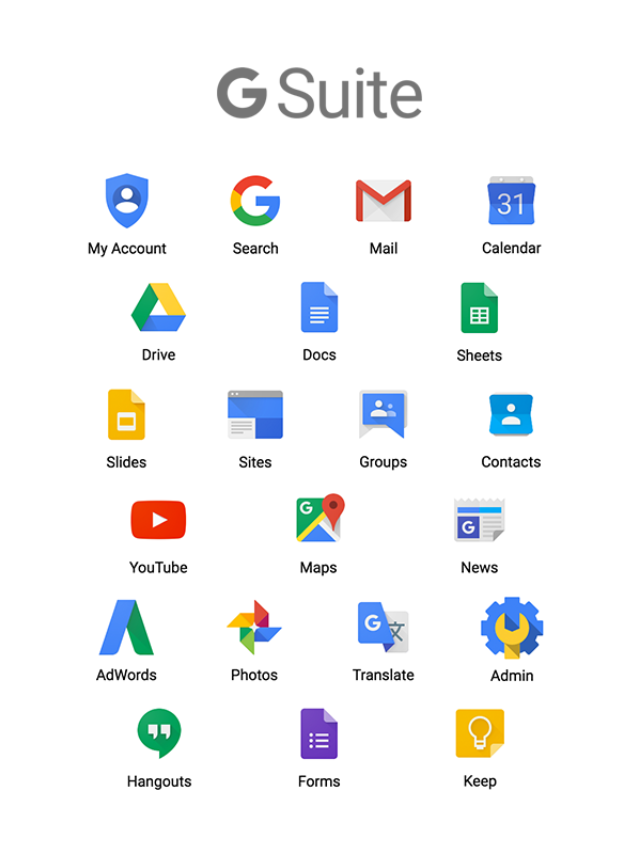 G Suite prices start at $5/user/month
G Suite is priced relatively cheaply at $5/user/month for 60GB of storage per user (plenty for most business owners and employees). Of course, some people like video editors work with large files, and they can always be upgraded to unlimited storage for $10/user/month. G Suite comes with a 14 day free trial and then you can save 20% off your first 12 months when you join with Adhesion. More useful applications like Google Hire (for smarter recruiting) and Google Classroom (for training recruits) are adding to G Suite's value, making it the all-inclusive solution for starting or growing a small business.
As a testament, Adhesion has been using G Suite since its initial launch. The result? We believe G Suite is underrated and we recommend it to nearly all of our clients.
Transitioning to G Suite
The majority of younger employees prefer Google's apps, and therefore are less productive with Microsoft Outlook and Office 365. These younger employees can also be useful with helping Microsoft users learn Google's ropes. If you don't use Gmail, Google Docs or Google Drive, it's normal to fret about switching to Google's software. Google knows this, and so they've focused on making G Suite intuitive and user-friendly, with a dedicated G Suite Learning Centre to ensure all your questions are answered pronto.
G Suite Setup Services by Adhesion's Team
Adhesion's team is well-versed with G Suite, and we'll be happy to guide your business. If you prefer to keep using your old email client (e.g. Apple Mail, Outlook) instead of Gmail, we can still help you integrate your account. We can even show you how to integrate 3rd party tools (e.g. Slack, Xero) with your G Suite so everything works seamlessly.
We can work with you to set up your G Suite using your existing domain/email address, and transfer old emails into your new account:
G Suite setup fee — $359 for up to 6 email addresses
Setup additional emails — $59 for every 6 extra email addresses
Migrate pre-existing email files to G Suite — $99 per email address
Setup email forwarding — $39 per forwarding address
Not sure what you need? Not worries, call us on 0800 234 374 for a quote. We'll be happy to discuss your specific business needs and recommend an ideal solution for your budget. Remember that G Suite charges an additional $5/user/month, payable directly to Google via your G Suite account. Setup typically takes 3-7 days, depending on your requirements.