Online Forms + Conversion Rate Optimisation = More Leads
If you're redesigning any online form, whether it be short or multi-page, we encourage you to start from scratch and do it right (i.e. from your customer's perspective, not a sales perspective). If you're thinking "But that'll cost time and money with our web developer", then you can't expect to significantly improve your conversion rates. It's important to invest in the last step of your sales funnel. It's where a lot of your potential customers will jump ship. Below is a before-and-after comparison of an enquiry form using this guide's advice. Now, let's start shaving down your online form to minimise distractions and maximise simplicity.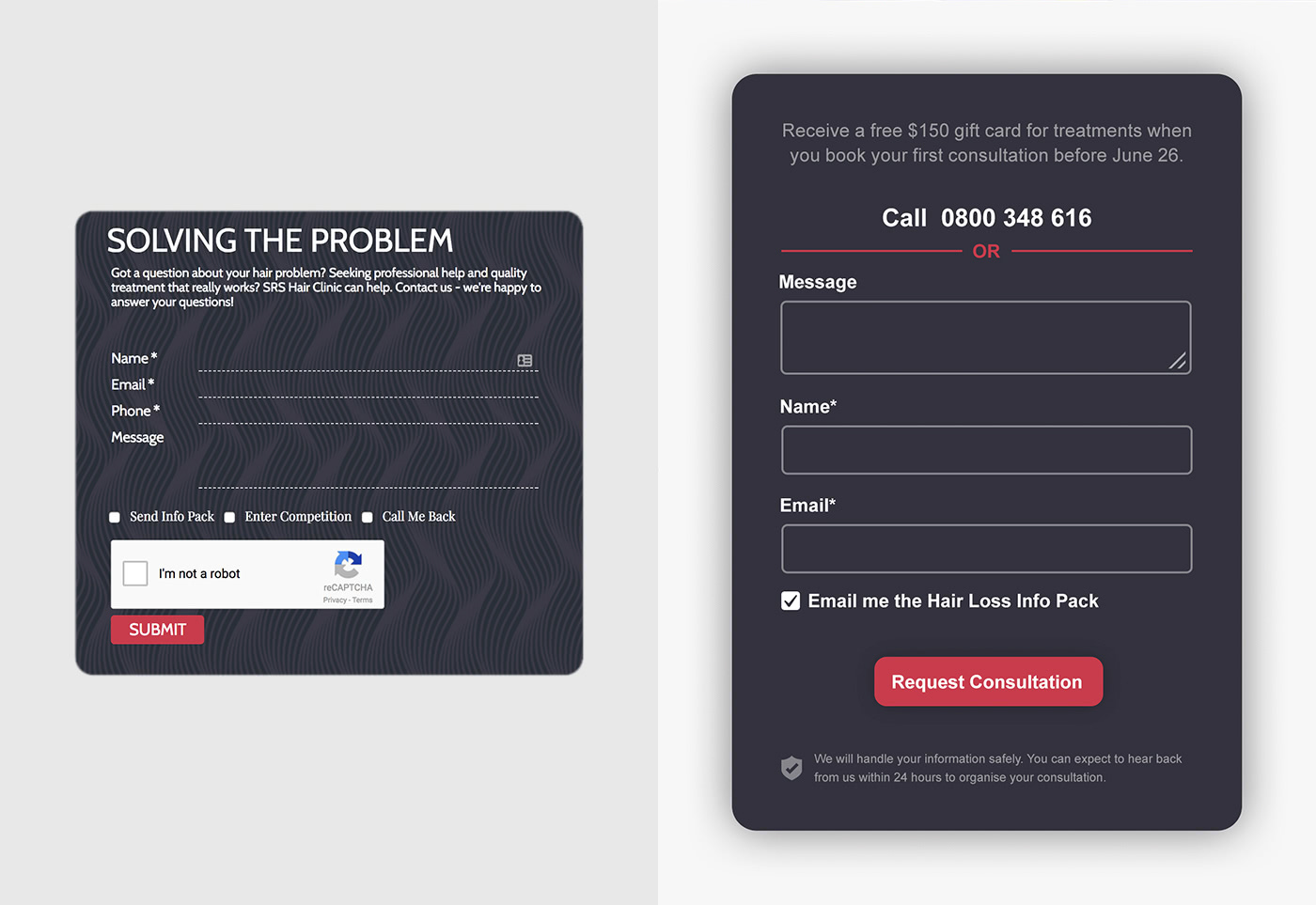 Next, instead of requesting people to enter their 'First Name' and 'Last Name' in seperate fields, just use one 'Your Name' field. If your system requires separate first and last names, then you can split this 'Your Name' field by looking for spaces (i.e. If 'Your Name' contains a space, split 'Your Name' into 'First Name' and 'Last Name'). At the end of the day, a customer will give you the name that they want to be referred by. That's another field gone.
You may or may not have an "I'm not a robot" reCAPTCHA checkbox at the bottom of your form. Either way, if you're a small business, it's probably time to get the new Invisible reCAPTCHA. You'll want to follow Google's Guide for Installing Invisible reCAPTCHA, or show your web developer. Google's intelligent software will automatically check a user's behaviour to determine whether they are human or robot. Only if Google suspects suspicious activity will a user be prompted to complete a task to prove they are human. That's another distraction removed.
Got image content on your contact page? It might be worth removing this distraction too. Adhesion recently performed an A/B test on Google Optimise to test the enquiry form without imagery. Turns out the conversion rate was significantly better without the image. Take the Google homepage for example. It has one "Search" field in the middle of a blank page because that page is trying to perform one function: Googling. This is an easy A/B test you can do to introduce yourself to Google Optimise and to see if your online form works better without distractions. That's another element removed for simplicity.
Another simple change you can make is to the order of the fields in your online form. Especially if your form is long, put any 'Message' fields at the top, instead of the bottom like most websites. Your customers don't want to give you their personal information, they want to contact you. So, prompt them type out their message first, then ask for their info. Like they say, if you want someone to do you a big favour, they'll be more likely to do it if you ask them to do a small favour first.
All these tiny changes have a synergistic effect on conversion rates.
Online Form Buttons, Calls to Action, Security and User Confidence
The most common advice for online forms is to change the colour of any enquiry buttons to red. Give it a try. It's one of the easiest A/B tests you can do to introduce yourself to Google Optimise.
You can also A/B test different wording for your 'Submit' button (a.k.a. Call To Action or CTA). The CTA you use is important because it gives users an expectation of what will happen when they click the button. For example, if you have a multi-page form, you should make it explicitly clear when the last button click will be. Perhaps you've done some online shopping yourself and not known whether the "Confirm" button will charge your credit card or move you onto the next step. For multi-page forms, you can clarify this with a progress bar and 'breadcrumbs'. For short forms, try adding a small piece of text beneath your 'Submit' button that describes what somebody can expect to happen after clicking (e.g. "Your personal info will be handled privately and securely. We'll send a confirmation/receipt to your email. After submitting your enquiry, you can expect a email response within 12 hours. If you're booking a consultation, you'll find free parking beside our office. Tah tah for now!"). You should also add this type of messaging to any confirmation/thank you pages.
Now for some controversy. Depending on the demographic of your audience, you'll want to try adding a security icon and/or message near your 'Submit' button to reassure people that your online form is legit. This is controversial because, by including a safety icon and/or message, you're prompting people to question your form's legitimacy, when they might not have even thought of it in the first place (i.e. out of sight, out of mind). For example, if someone isn't making a payment via your website, and your website already looks professional and trustworthy, you probably don't need to include security info.
Speaking of security, you have until July 2018 to Install SSL on your HTTP website. If not, Google will mark your website as "Not Secure" in all Google Search results.
Do Contact Forms Themselves Really Increase Overall Conversion Rates?
Since you've made it this far, let's address the 'ridiculous' question: Do you even need a contact form in 2018? No, seriously, operating systems are becoming so advanced that, if your contact page consists of a simple contact form, you can potentially substitute your contact page for a simple email button in your menu (i.e. an href="mailto:…" link).
For example, if an Apple user were to click 'Contact' in your menu, instead of loading a new page with your contact form, their operating system would quickly open a ready-to-go email beside their browser (e.g. using Split View multi-tasking). Below is an example of a website, showing what this looks like.
But, why? Doing this removes the requirement for people to enter their personal information, so they don't feel like they're giving away their personal information or signing up to a mail list (but, this way, you still get to collect their emails). Just remember, never email promotions to anyone who hasn't signed up or asked for them.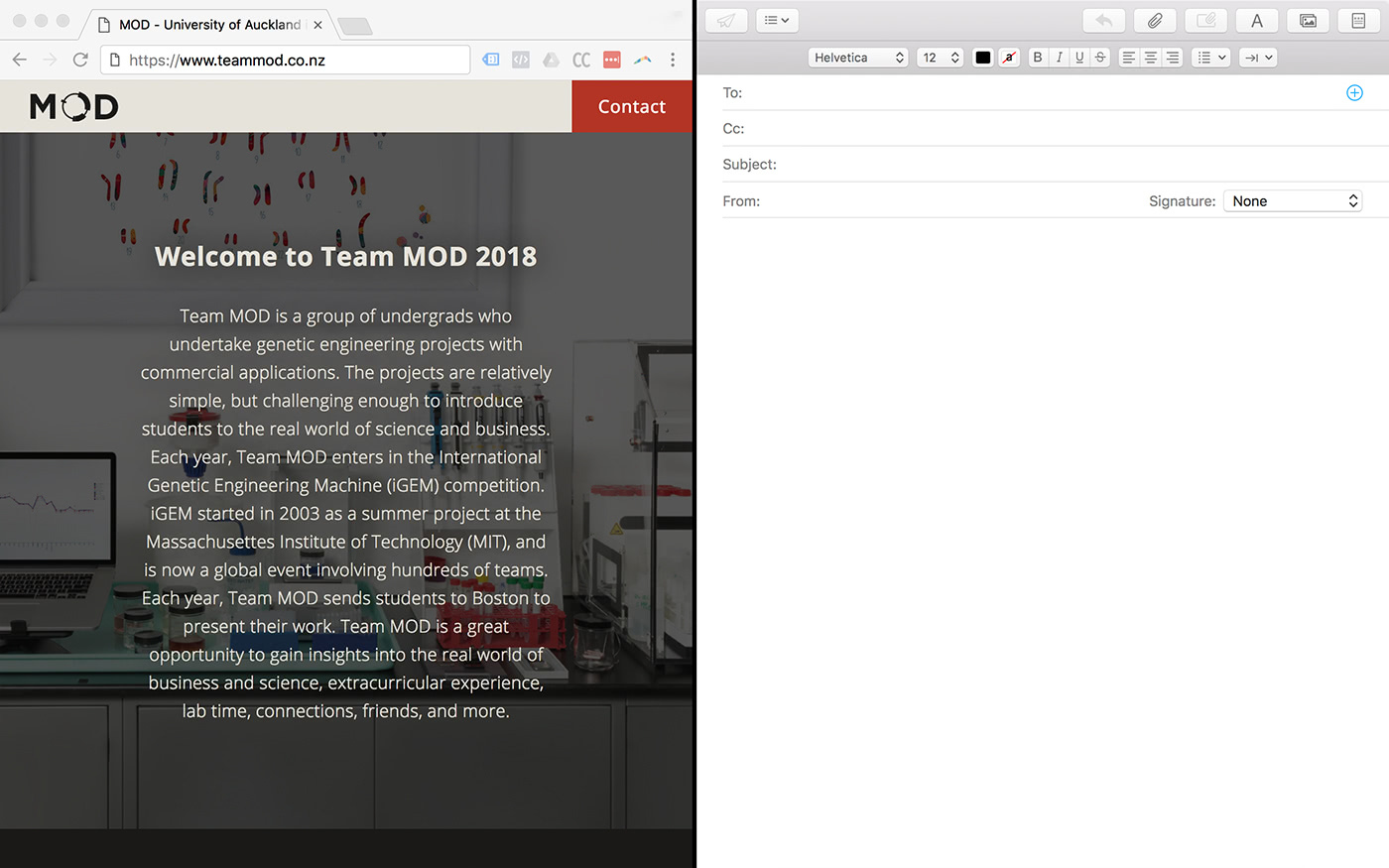 Need Help with your Website's Performance?
Get in touch with Adhesion and we'll check out your website and let you know what needs improving.