Abbey Employment Law Specialists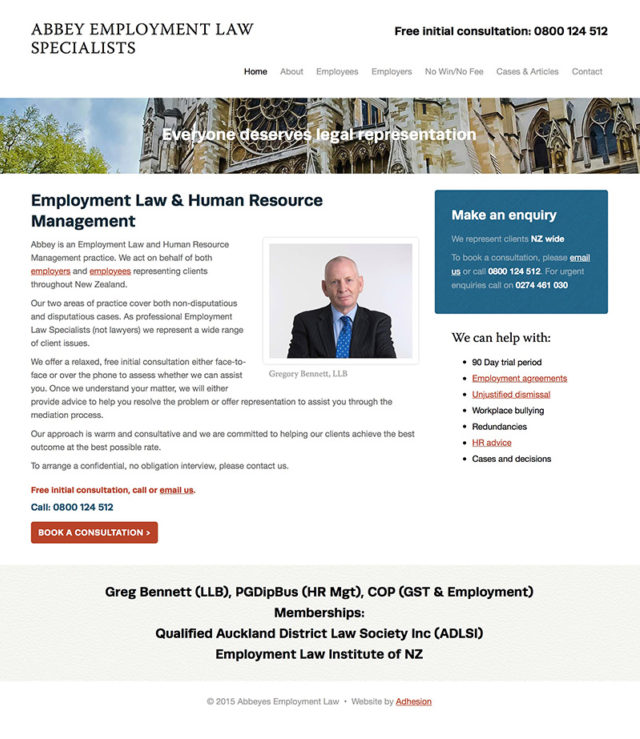 Business type:
Employment Law

Location:
Auckland, NZ
Customer brief:
Update the website to achieve a more professional front shop to the business and to stay ahead online in a very competitive market segment. Provide a new website design better suited to receive and convert the online advertising campaign traffic being managed by Adhesion.
Our solution:
Small business website package tailored and stylised to this service business.
The website includes an article blog and the cms allows for easy editing and publishing of content.
Small business SEO of the website.
A targeted Google AdWords campaign.
Result highlights:
Initial results show website enquiry rate is up by approx 100%
Customer feedback:
"I contacted Adhesion with an existing self-mangaged AdWords campaign that was stagnant. Tony audited the account, and demonstrated where it was weak. Jennifer rebuilt a new campaign which has delivered consistently good traffic and leads, with strong numbers to support this. After a couple of months with Adhesion's AdWords management, I had the confidence to engage their website design services and had a new website built by Adhesion. I am now getting even more leads that is growing the business beyond what was initially believed. I have recommended Adhesion to colleagues and would strongly recommend Adhesion to anyone in need of an online advertising campaign or website design services."

Make enquiry »